Shop New McLaren Artura For Sale in Philadelphia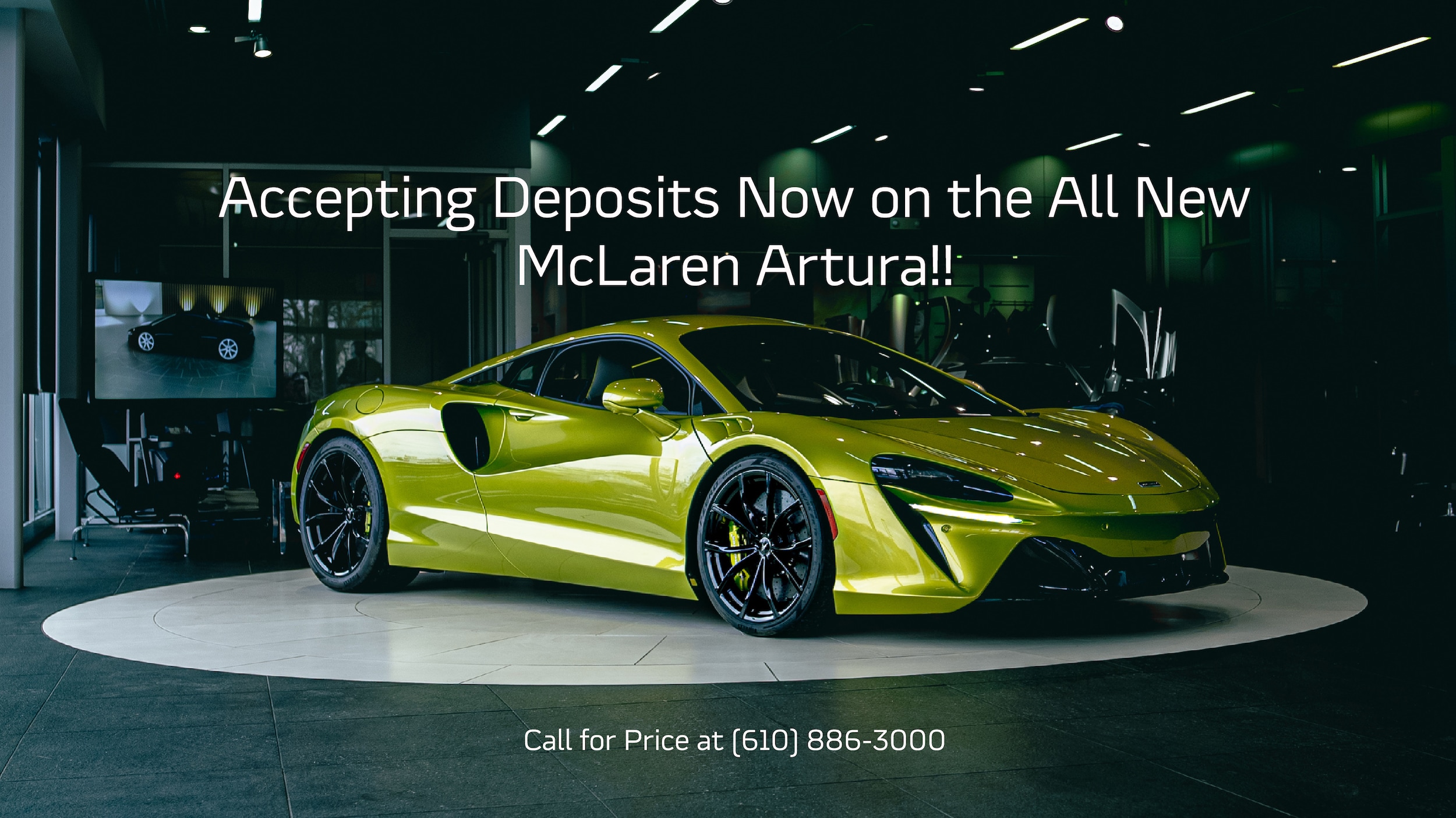 New

McLaren Artura

 For Sale in Philadelphia
Experience Modern Performance with the McLaren Artura
McLaren is no stranger to pushing the automotive limits. The new McLaren Artura fully embraces the future by utilizing a hybrid powertrain and a range of other modern features and tech. The result? A high-performance sports car that is sure to impress any automotive enthusiast in the Philadelphia area. Which is why our team at McLaren Philadelphia is excited to share our knowledge on this exciting new offering.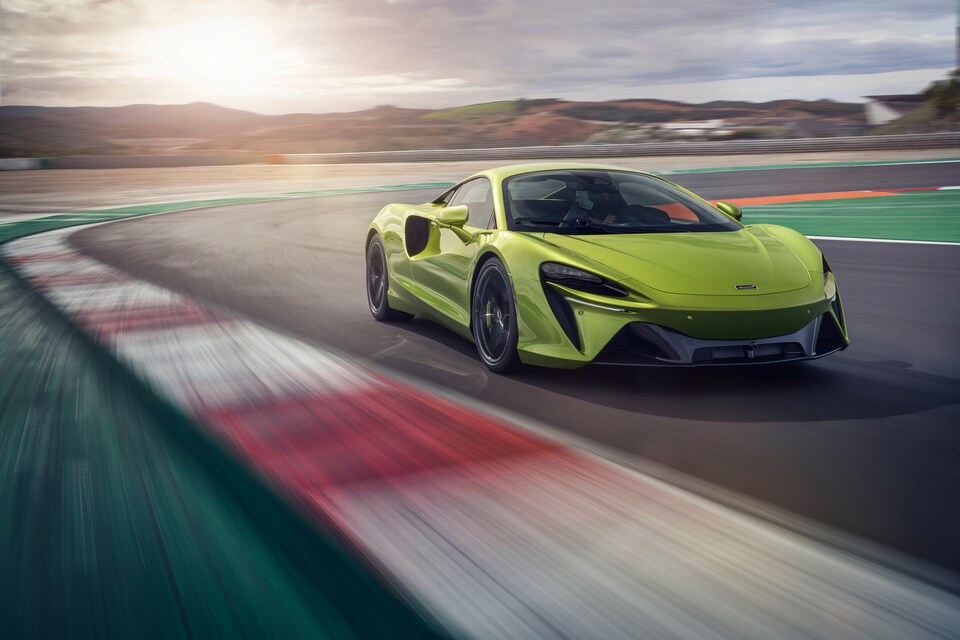 The McLaren Artura is the New High-Performance Car from McLaren
Offering up to 671 horsepower and an extremely light-weight build, the McLaren Artura is sure to be a track-day hero. Additionally, with its unique design, it is a vehicle that will turn heads in all of the right ways.
Performance & Speed
Performance is at the heart of the McLaren Artura. With the ability to achieve speeds of 205 mph, you can benefit from serious speed from this model. This speed comes from a new hybrid twin-turbo V6 engine. With the hybrid system paired to a twin-turbo V6, the McLaren Artura generates 671 horsepower and 531 pound-feet of torque. Which are truly impressive numbers.
The 0 to 60 mph time of the new McLaren Artura is an eye-watering 3.0 seconds. This is due in part to the new McLaren Carbon Lightweight Architecture (MCLA). This is a new platform designed by the experts and engineers at McLaren. Weight is able to be reduced while maintaining overall rigidity, which is something drivers are likely to appreciate.
Thanks to the hybrid powertrain, McLaren has stated that the McLaren Artura can benefit from a "medium range" of all-electric operation. The electric motor is located within the eight-speed dual-clutch transmission, gaining power from a 7.4-kWh lithium-ion battery pack. The system has been designed to supplement the engine with superior power output.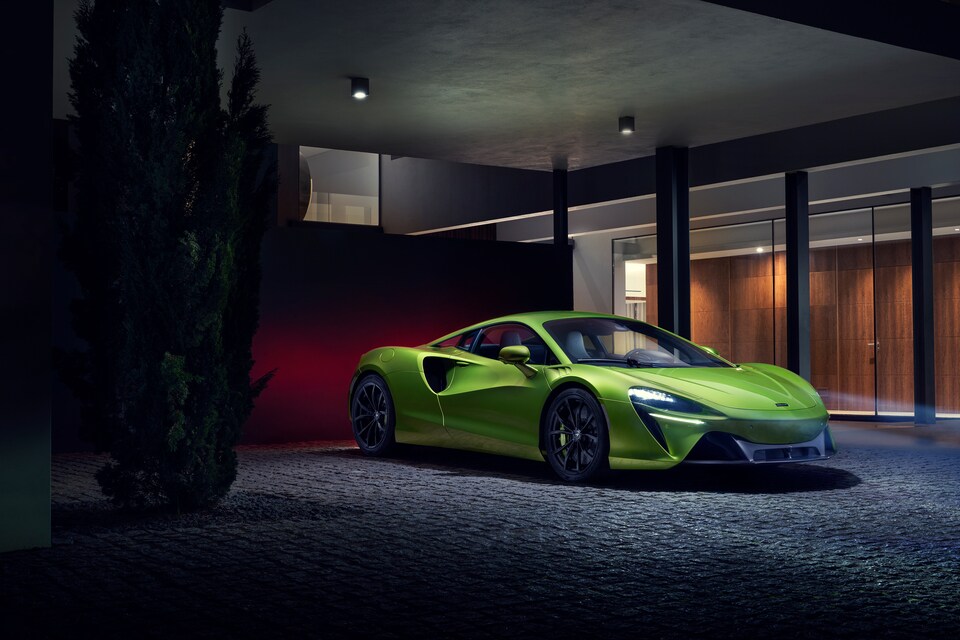 Exterior Design
Power and performance are not the only things that the McLaren Artura does well. Its exterior design is a direct reflection of its commitment to speed. Weighing in at just 3,303 pounds, this McLaren is extremely light. The vehicle's low center of gravity and aerodynamic design helps it achieve high performance.
With swooping lines and an array of exterior paint options, getting the ideal vehicle that suits your preference is made easy. Other notable features include the rear spoiler and rear diffuser that generate 50kg of downforce. Additionally, hidden door inlet ducts and rear buttresses channel air for serious efficiency.
Safety & Tech
When thinking of a supercar, safety equipment is not something that is typically a priority. The McLaren Artura defies that by offering several available active safety features. These features include:
Adaptive Cruise Control
Automatic High-Beams
Road-Sign Recognition
In terms of tech features, the McLaren Artura will not come up short. An 8.0-inch, vertically-oriented touchscreen will help drivers stay connected while behind the wheel of their supercar. Built-in navigation, Bluetooth connectivity and SiriusXM satellite radio are all things that make this supercar a truly modern vehicle. If you are looking to keep your vehicle as light as possible, you can do so with the McLaren Artura can be configured to be stripped down.
Interior Design
McLaren is known for their highly functional interiors. The cabin is driver-centric, allowing the driver to keep complete focus on the road or track ahead. That does not mean the cabin is not a comfortable place to be. Should you want, the cabin can be equipped with premium materials to add to your automotive experience. The McLaren Artura also comes standard with power-adjustable seats to give you the vantage point you need to drive with serious confidence.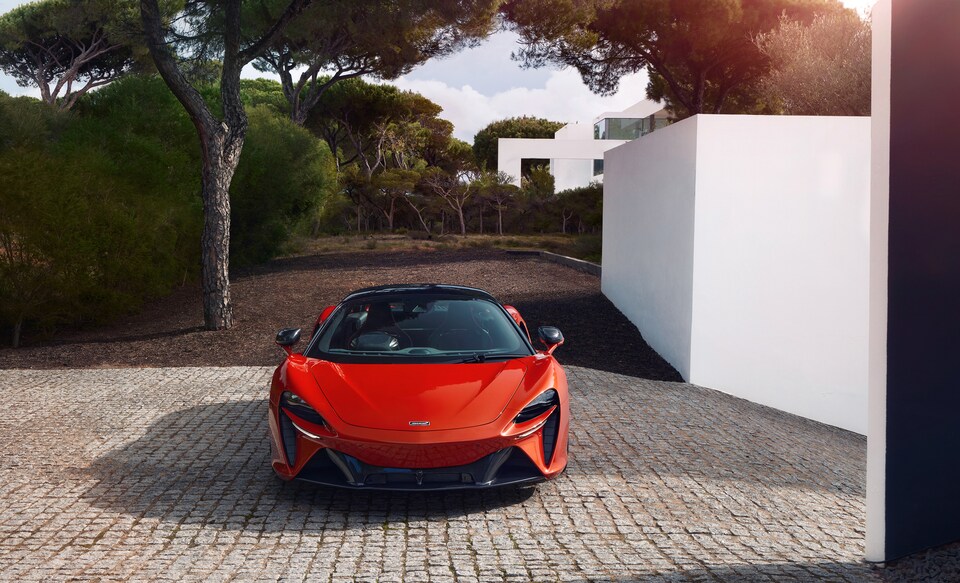 McLaren Artura FAQs
What is the 0-60 mph time of the McLaren Artura?
The McLaren Artura has a 0 to 60 mph time of 3.0 seconds. This means you can enjoy the performance that you would expect from a new McLaren vehicle.
How much will the McLaren Artura cost?
The McLaren Artura is expected to have a starting cost of around $225,000. This price could change as more is learned.
How fast is the McLaren Artura?
The McLaren Artura is an extremely fast vehicle with a top speed of 205 mph. This is thanks to the hybrid motor paired to a twin-turbo V6 engine.
How much horsepower does the McLaren Artura have?
The McLaren Artura benefits from 671 horsepower and 531 pound-feet of torque.
What colors does the McLaren Artura come in?
The McLaren Artura is set to come in four unique color options. This will allow you to get a vehicle that is reflective of both your personality and your preference.
Can I place a deposit for the McLaren Artura?
At McLaren Philadelphia, we are currently taking deposits for the McLaren Artura. That way, you will know that you have secured your piece of McLaren history.
When is the McLaren Artura coming out?
The McLaren Artura is expected to arrive near June 2021.
Experience the New McLaren Artura
If you are interested in the new McLaren Artura, we encourage you to reach out to our team. We will gladly help determine if this exciting new sports car may be the correct pick for you. Then, we can help you make a proper deposit in order to secure your next McLaren purchase. Contact our team today to learn more.
Make an Inquiry
* Indicates a required field
Sales Hours
Monday

9:00AM - 6:00PM

Tuesday

9:00AM - 6:00PM

Wednesday

9:00AM - 6:00PM

Thursday

9:00AM - 6:00PM

Friday

9:00AM - 6:00PM

Saturday

9:00AM - 5:00PM

Sunday

Closed