McLaren Senna Philadelphia
McLaren is world-renowned for their automotive offerings. With a range of models and each committed to pushing the limits of innovation, competing with what a McLaren has to offer is no easy task. And it's for that reason that Philadelphia drivers opt to make McLaren their brand of choice when it comes to exotic cars.
If you're looking to get behind the wheel of a new McLaren model, you may be considering the McLaren Senna. Which is considered by many to be one of the ultimate McLaren models. Once you visit our McLaren dealership, you can experience a vast used McLaren inventory including the McLaren Senna.
McLaren Senna Performance
The McLaren Senna is a vehicle purely committed to performance. Boasting a 4.0-liter Twin-Turbocharged V8 engine, the McLaren Senna delivers 789 horsepower and 590 pound-feet of torque. Paired to a seven-speed dual-clutch transmission, the powertrain of the McLaren Senna is fine-tuned to offer you the ultimate automotive experience. The McLaren Senna is rear-wheel drive as well.
With the McLaren Senna, settling on power and performance will be the last thing that you're doing. The 4.0-liter Twin-Turbocharged V8 engine has a new camshaft, new pistons and an Inconel and titanium exhaust. All improvements that work in cohesion to take performance and speed to the next level.
Exterior Design
The McLaren Senna's exterior design is striking to say the least. An extreme focus has been placed on attention to detail. Its massive rear wing provides serious downforce so you can handle the power delivered by this vehicle.

The sheer amount of effort that has been given to cutting weight is something you're likely to notice as well. Because the McLaren Senna is so light, you'll be able to dominate on track day. All of this effort comes together to give the McLaren Senna an aggressive look.
Interior Design & Features
Inside of the McLaren Senna lies weight-reducing carbon-fiber. With two customizable, bucket seats, you'll be seated in the cockpit of an extremely powerful vehicle. Every aspect of the McLaren Senna's interior is dedicated to keeping you connected to the road ahead of you.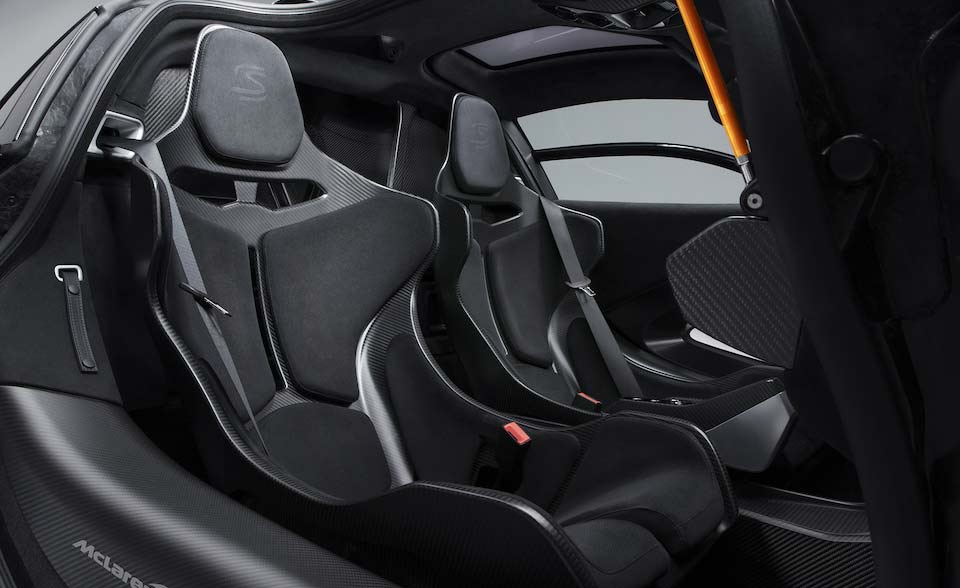 McLaren understands the importance of modern tech when it comes to high-performance vehicles. A digital gauge cluster will give you the customization and information that you need. Additionally, an 8.0-inch infotainment screen can provide you with other important readouts. The McLaren Senna can also come equipped with a three-camera system, which can record your time at the track.
The McLaren Senna is Sure to Impress
At our dealership, our goal is to provide Philadelphia drivers with the McLaren inventory that they need to satisfy their automotive enthusiasm. It's for that reason that you'll find a selection of pre-owned McLaren Senna models. These used McLaren models have undergone an extensive and professional inspection, which is why you can count on our inventory to deliver pristine used McLaren models.
If you're a driver in the Philadelphia area and believe the McLaren Senna could be the right vehicle for you, visiting our team at McLaren Philadelphia is something that you'll want to do.
Schedule a Test Drive with the McLaren Senna
We encourage you to schedule an appointment with us if you would like to learn more about our pre-owned McLaren Senna selection. Once you contact us, you can visit our dealership in person, where you'll see the McLaren Senna first-hand. Because the McLaren Senna is such a complex vehicle, experiencing it in person is a necessity.
Schedule an appointment with our team today and see why Philadelphia McLaren enthusiasts choose to make Philadelphia McLaren their friend in the automotive industry.
Make an Inquiry
* Indicates a required field
Sales Hours
Monday

9:00AM - 6:00PM

Tuesday

9:00AM - 6:00PM

Wednesday

9:00AM - 6:00PM

Thursday

9:00AM - 6:00PM

Friday

9:00AM - 6:00PM

Saturday

9:00AM - 5:00PM

Sunday

Closed