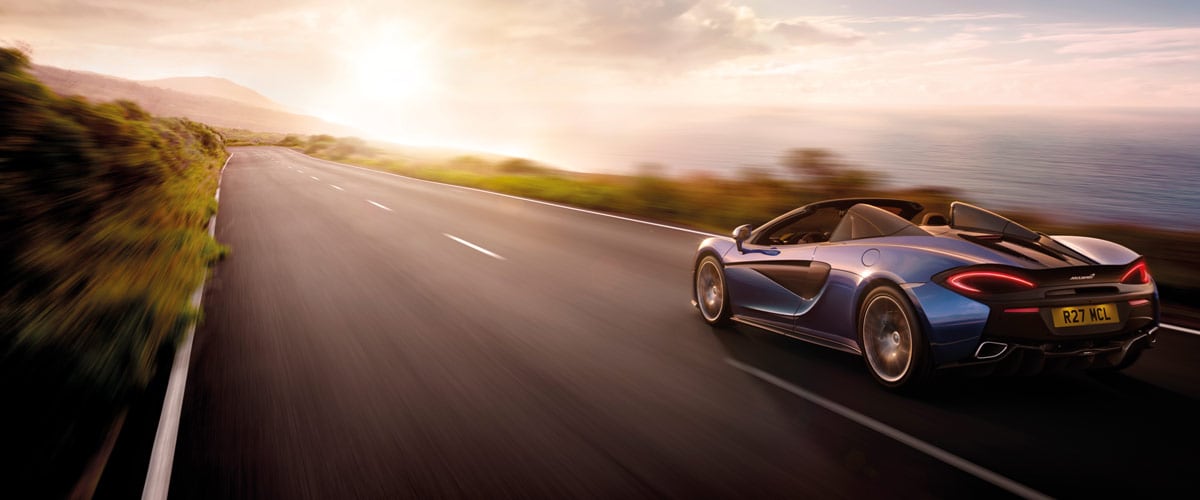 The Hardest Choice You'll Make is: Coupe or Convertible?
Legendary McLaren performance comes to Philadelphia in the form of the exhilarating McLaren 570S Coupe and 570S Spider. Part of the McLaren Sports Series of performance cars, the renowned British automaker has woven together Formula 1 inspired engineering with modern comfort and advanced aerodynamics to create a driving experience that is sure to thrill.
McLaren 570S Coupe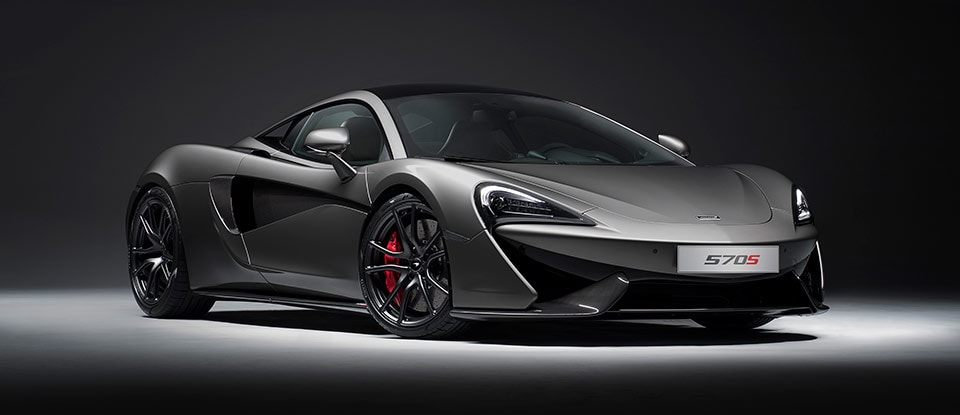 With a set of specifications to rival some supercars, the McLaren 570S coupe offers Philadelphia drivers hair-raising performance in a car that's comfortable enough to drive every day. Inside the cockpit you'll be surrounded by high end materials and textures, and a host of modern technology that will make your 570S a nice place to be.
Performance
And as for the performance, well, let's just say you'll always know that you've put your foot down. The 3.8-liter twin-turbo V8 engine produces 562 horsepower and throws down 443 pound-feet of torque. That's tire scorching power, and when combined with the seven-speed paddle shifted gearbox offers thrilling results.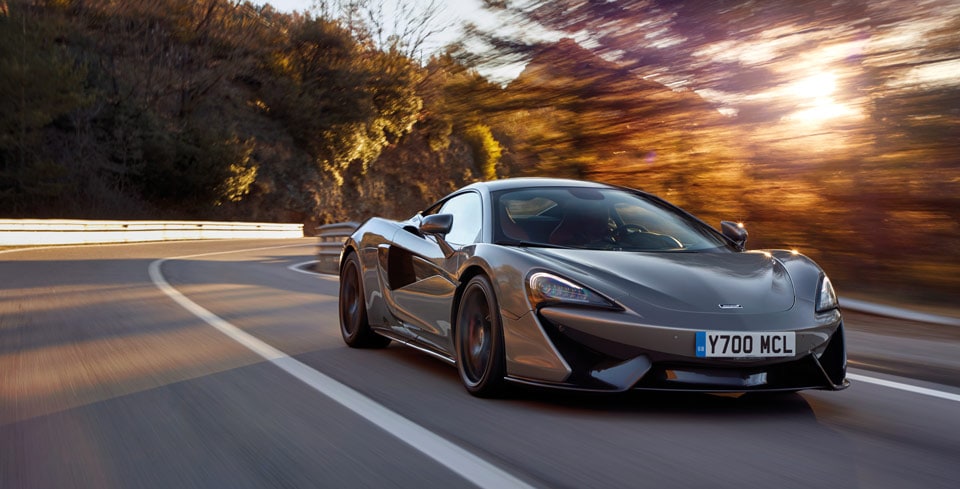 That combination can pull the 3,201-pound McLaren 570S coupe from zero to 62 miles per hour in just 3.2 seconds, and gets to 124 miles per hour in just 9.5 seconds. And if you were to take your new super sports coupe to the track it could achieve a top speed of 204 miles per hour.
Of course, you'll eventually need to bring all that speed back down to a dull roar, which is why the 570S comes equipped with race-inspired carbon ceramic brakes. Capable of pulling the glasses off of your face as you decelerate from 124 miles per hour to a stop in just 413 feet. At a more reasonable 62 miles per hour, the coupe screeches to a halt in just 102 feet.
To handle the corners, adaptive dampers and anti-roll bars attach to the double wishbone suspension to optimize grip through the corners and maximize tire contact on rough surfaces.
Interior
Just because a car offers impressive performance doesn't mean it has to be uncomfortable. As is the case with other high-end sports cars, the McLaren 570S offers Philadelphia drivers a wide range of interior customization options. You'll have a choice of multiple colors and materials. Between alcantara, carbon fiber, hand-stitched nappa leather, and brushed aluminum surfaces, you'll always be surrounded by comfort and luxury.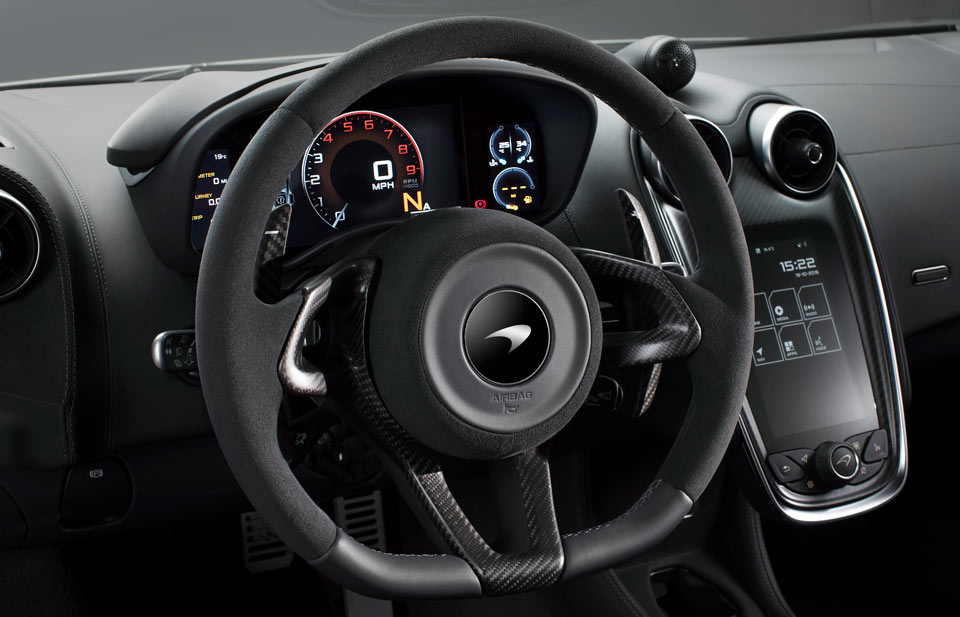 The contoured seats hold you while you're throwing your 570S through the corners, and the McLaren Iris infotainment system puts your music and navigation within arm's reach, so you can set the perfect soundtrack for your longest drives, and the available Bowers and Wilkins premium audio will offer exceptional clarity for your listening pleasure.
Looking through the steering wheel, the high-definition digital display offers a truly immersive experience for the most engaged drivers. The system reacts according to your drive mode, giving you relevant information to the available normal, sport, or track modes.
McLaren 570S Spider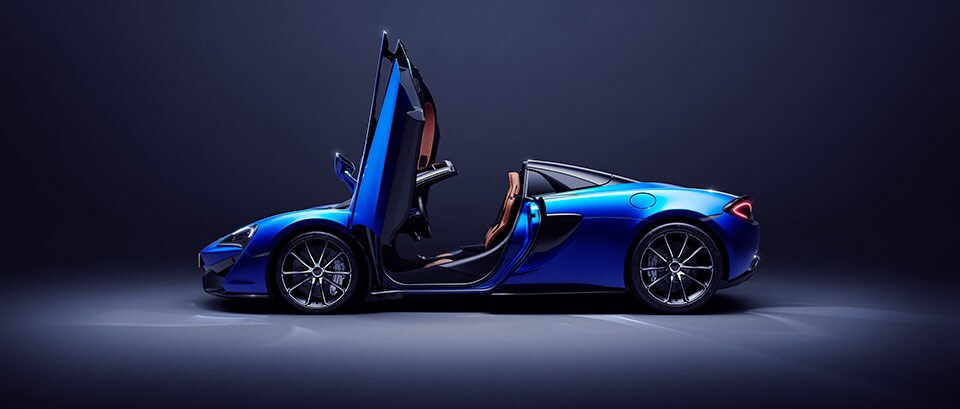 If you want a little more wind in your hair, opt for the McLaren 570S Spider. Just about 100 pounds heavier than the 570S coupe, the 570S Spider still matches top speed and zero to 62 miles per hour times for virtually unchanged performance.
Stopping distances are lengthened slightly, at 436 feet from 124 miles per hour, and 105 feet from 62 miles per hour. But even with the slight increase in weight, the open air feeling of the 570S Spider combined with the incredible performance will have you forgetting about that the first time you drop the top on a joyride.
Visit McLaren Philadelphia to Learn More
Without a doubt, the new McLaren 570S offers an excellent driving experience to Philadelphia drivers. If you want to experience the thrill of Formula 1 inspired performance, visit our dealership today.