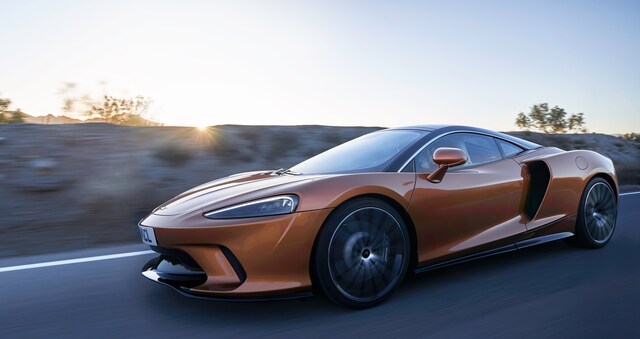 When luxuriant style combines with expressive performance power, Philadelphia sports car seekers will meet their match with the all-new McLaren GT. With a sharp profile crafted specifically for exotic car lovers and collectors, plus precision power that provides the ultimate commute no matter where the highway leads, drivers who crave the epitome of performance and style for the Philly streets will fall in love with the upcoming McLaren GT release!
If you're curious about what the new McLaren GT offers drivers and luxury car buyers, learn about some of the phenomenal features in the new GT and how you can get on our list for your future test drive.
Hot features for the New McLaren GT
This supercar is unlike any other luxury vehicle you will see in Philadelphia, and drivers who choose the McLaren GT are sure to catch a few extra glares and stares from the sidewalk. The new mid-engine, two-seater McLaren GT offers robust power with the redefined version of the 4.0-Liter twin-turbo V8 engine matched with smaller turbochargers that quickens responsiveness. With 612-horsepower and 465 lb-ft of torque, drivers have no problem hitting 0-60 mph in 3.1 seconds!
Interior comfort for the McLaren GT offers high-level styling with standard Nappa leather trim with available options for animal-friendly Cashmere or microfiber. Heated seating comes standard, and the redefined seats for the McLaren GT offer additional padding for enhanced comfort. Drivers also have responsive technology through the 12.3-inch touchscreen that adheres to navigation and multimedia connectivity and with 14.8 cubic feet of rear cargo space, packing in the groceries or your golf gear is no hassle whatsoever.
Schedule your Test Drive of the McLaren GT in Philadelphia Today!
When you're prepared to road test the McLaren GT, feel free to make an appointment by calling our sales desk at (888)581.7942 or submit an inquiry by filling out your information on our contact page. We'll see you in our luxury car showroom soon!